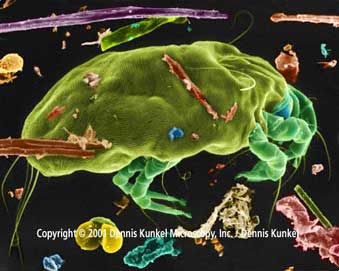 (Aren't you glad dust mites are so small you can't see them?)
In the 1600's, another man who lived in Holland, Anton van Leeuwenhoek (say, "lay-you-wen-hook") began to make microscopes a as a hobby. He was in the business of selling cloth, but he became very good at making microscopes. His microscopes could magnify an object up to 200 times.
He collected things to look at -- water and plants and blood and dirt. When he scraped stuff off of his own teeth, Anton van Leeuwenhoek became the first person to see bacteria!
People kept finding new ways to get bigger and clearer images from microscopes. Today, a microscope that bends light with lenses can magnify up to 1,500 times!
But there are microscopes that can do even better than that! A microscope that bounces a beam of electrons (electrons are parts of atoms) off an object can magnify up to 300,000 times! What we can see with an electron microscope is also clearer than what we can see with a compound microscope.
And there are other kinds of microscopes that can magnify things millions of times! Click here to see atoms magnified 45 millions times!
Want to meet someone who made most of the microscopic photographs you see on this site? Visit Dennis Kunkel!