Most of the amazing microscopic photographs on this web site have been created by Dennis Kunkel. Dennis lives in Hawaii with his family. Here's Dennis on a Hawaiian beach. He's collecting something he will photograph. Touch the picture to find out what it is!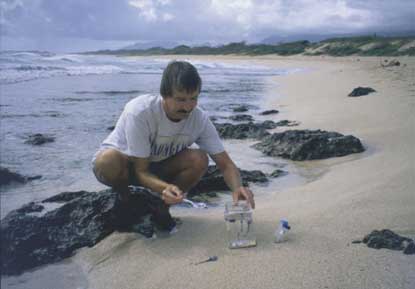 Dennis grew up in Iowa, with cornfields all around. He loved being outdoors. He enjoyed taking care of pets and helping in the garden.
Then, when Dennis was ten years old, one of the most important things in his life happened. His parents gave him a microscope. The microscope came with samples - insect legs, roots, and tiny creatures. That was interesting. But Dennis thought it would be more interesting to look at living things. There was a pond not far from his house.
"I started hiking down there with my little collecting bottles and bringing back samples to look at with my microscope," says Dennis in his book, Hidden Worlds. "I couldn't wait to get home from school in the afternoon so I could go to the pond. Before long I was looking at all kinds of fascinating creatures."
Here's something that Dennis saw in the water from the pond. It's called a Volvox. It's a kind of plant!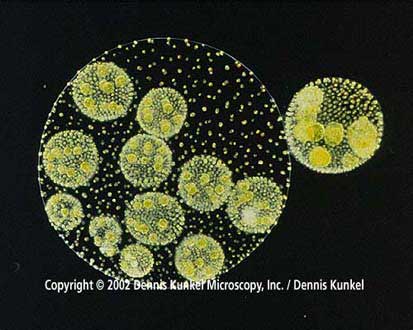 As Dennis got older, he wanted to explore hidden worlds all over the Earth - in oceans, on mountains, in rainforests, and even on kitchen sponges!
See more of the incredible things Dennis sees through his microscope! Visit Dennis at his web site: www.DennisKunkel.com.
Don't miss Dennis's gallery of "Most Wanted" Bugs And check out ZOOM IN! You'll see the tiniest parts of an ant, a fly, and a mosquito. Have fun!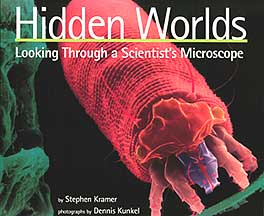 Would like to find out more about Dennis Kunkel and his adventures? Read his book, Hidden Worlds: Looking Through a Scientist's Microscope.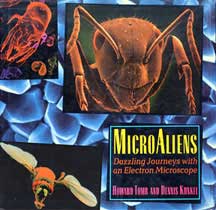 You might also enjoy MicroAliens: Dazzling Journeys with an Electron Microscope, another book by Dennis Kunkel.
To find out more about these books and where to find them, click here!